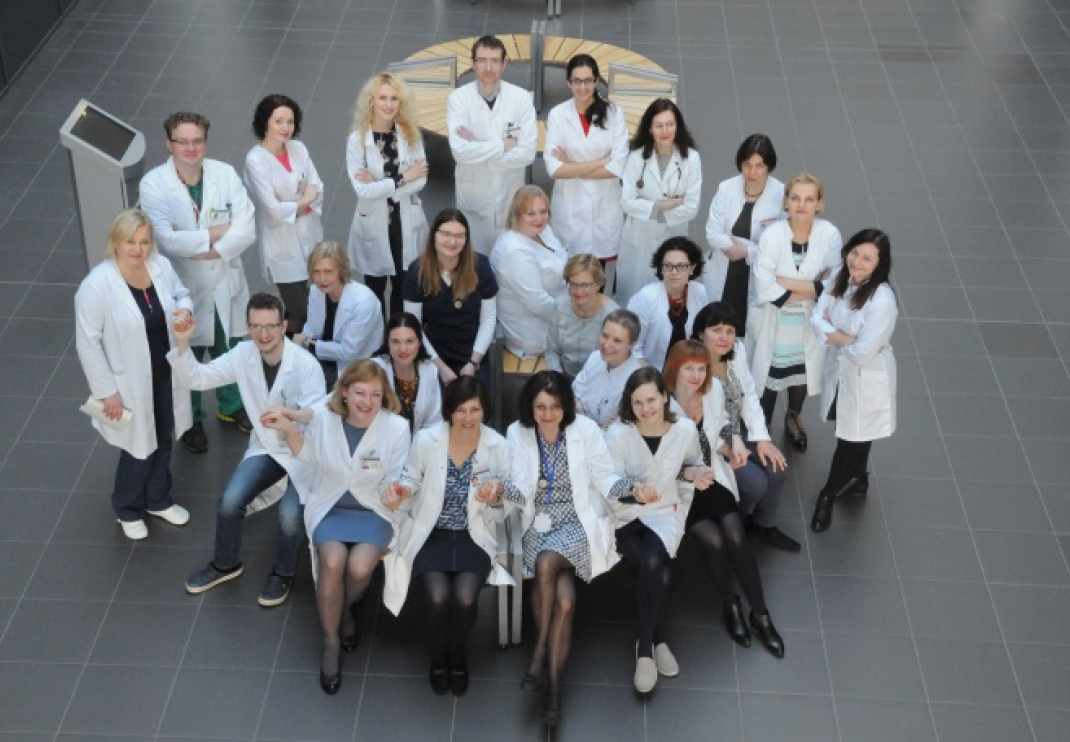 Center of Excellence for Pulmonary Hypertension (CEPH)
The Center of Excellence for Pulmonary Hypertension (CEPH) was established at the VUL Santaros Klinikos in 2010 March. There collaborating enthusiastic doctors of various specialties: pulmonologists, cardiologists, interventional cardiologists, radiologists, rheumatologists, anesthesiologists, cardiac surgeons, and other specialists.
Pulmonary arterial hypertension (PAH) is relatively rare (<10% of all patients with pulmonary hypertension). The disease can be fatal if it is not treated. There is no difference in survival from severe cancer if the patient does not get timely appropriate treatment.
Prevalence of PAH: 15-60 cases per million adults. 2.4-10 new cases per million population are confirmed each year based on data from various national registries. PAH is most common in young and able-bodied persons. The mean survival from diagnosis without appropriate treatment is about 2.8 years, for severe forms even shorter: 6 to 10 months.
These patients have been successfully treated worldwide since 1995, and in Lithuania since 2005. About 75% of PAH patients survive with appropriate treatment.
There are currently 7 effective drugs registered in Lithuania for the specific treatment of PAH. These drugs affect 3 different pathogenetic chains. If treatment with a single drug is ineffective, combinations of drugs are usually prescribed. If the medications does not have a sufficient effect, the patient may still benefit from a lung or heart and lung transplant.
The aim of the center is the accurate modern examination and treatment of patients with rare and extremely severe pathology - PAH and chronic thrombotic embolic pulmonary hypertension (CTEPH) - as well as the further care of these patients. We run screening programs for patients with systemic sclerosis of preparing for liver transplantation.
Read more about COVID-19 and pulmonary hypertension.
Features
The patient monitoring system of the center has more than 500 persons. More than 140 patients with PAH and CTEPH are currently being monitored and treated. All of them are given specific treatment for PAH. Also, pulmonary endarterectomy and/or balloon pulmonary angioplasty may be performed in patients with CTEPH.
Biochemical, genetic research, advanced disease detection methods, radiological diagnostics are applied and performed at our center. CEPH is a member of the European Reference Network on Rare Respiratory Diseases (ERN-LUNG) (more information: https://ern-lung.eu/). 
The center has developed a unique monitoring system that collects data on newly diagnosed cases, tracks the course of the disease, and evaluates the effectiveness of treatment. The collected data is analyzed and constantly updated.
CEPH prioritizes the development of clinical, biomedical research that encourage medical innovation. Therefore, patients are the first to receive a new advanced treatment for PAH. The center organizes and develops epidemiological studies of treatment outcomes and continuously improves treatment protocols according to the principles of evidence-based medicine. Our physicians organize local and international conferences and regularly participate in international conferences.
the-center-of-excellence-for-pulmonary-hypertension-scientific-publications.pdf